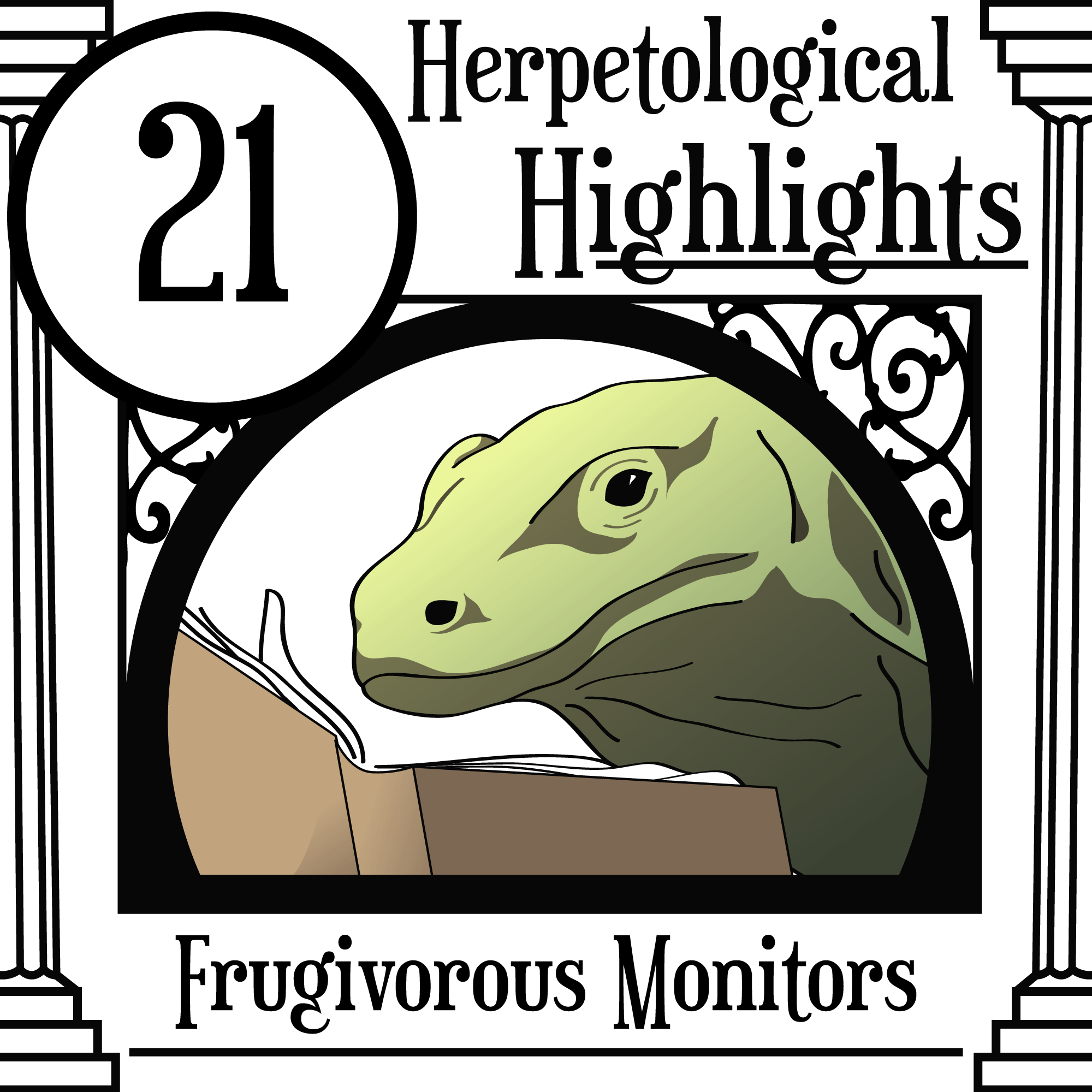 Monitor lizards are renowned savengers... or so is widely thought. There are a few species that have cast aside the scavenger ways of their compatriots, opting for more relaxed arboreal lifestyles, spending their days high in the tree tops foraging for fruit. These frugivorous monitor lizards are are joined by a serpentine Species of the Bi-week. FULL REFERENCE LIST AVAILABLE AT: herphighlights.podbean.com
Main Paper References:
Bennett, D. 2014. "The Arboreal Foraging Behavior of the Frugivorous Monitor Lizard Varanus Olivaceus on Polillo Island." Biawak 8 (1): 15–18.
Law, SJ, SR De Kort, D Bennett, and M Van Weerd. 2016. "Morphology, Activity Area, and Movement Patterns of the Frugivorous Monitor Lizard Varanus Bitatawa." Herpetological Conservation and Biology 11 (3): 467–75.
Species of the Bi-Week:
Brown, RM, U Smart, AE Leviton, and EN Smith. 2018. "A New Species of Long-Glanded Coralsnake of the Genus Calliophis (Squamata: Elapidae) from Dinagat Island, with Notes on the Biogeography and Species Diversity of Philippine Calliophis and Hemibungarus." Herpetologica 74 (1): 89–104.
Other Mentioned Papers/Studies:
Bennett, D. 2014. "A Dubious Account of Breeding Varanus Olivaceus in Captivity at the Paradise Reptile Zoo in Mindoro, Philippines." Biawak 8 (1): 12–14.
Bennett, D, and T Clements. 2014. "The Use of Passive Infrared Camera Trapping Systems in the Study of Frugivorous Monitor Lizards." Biawak 8 (1): 19–30.
Gunawardena, S. A. 2016. "Forensic Significance of Monitor Lizard Scavenging Activity on Human Corpses." Biawak 10 (2): 45-47.
Koch, A., and E. Arida. 2017. "A coconut-eating monitor lizard? On an unusual case of frugivory in the melanistic Sulawesi water monitor (Varanus togianus)." Herpetological Bulletin 139: 41.
Sugiura, S, and T Sato. 2018. "Successful Escape of Bombardier Beetles from Predator Digestive Systems." Biology Letters 14 (2): 20170647.
Sy, E. Y. 2012. "First record of Varanus bitatawa in the Philippine pet trade." Biawak 6 (2): 73.
Other Links/Mentions:
Smallest monitor lizard article/video: http://www.australiangeographic.com.au/blogs/creatura-blog/2015/05/australian-lizard-the-worlds-smallest-monitor
Music:
Intro/outro – Treehouse by Ed Nelson
Other Music – The Passion HiFi, www.thepassionhifi.com