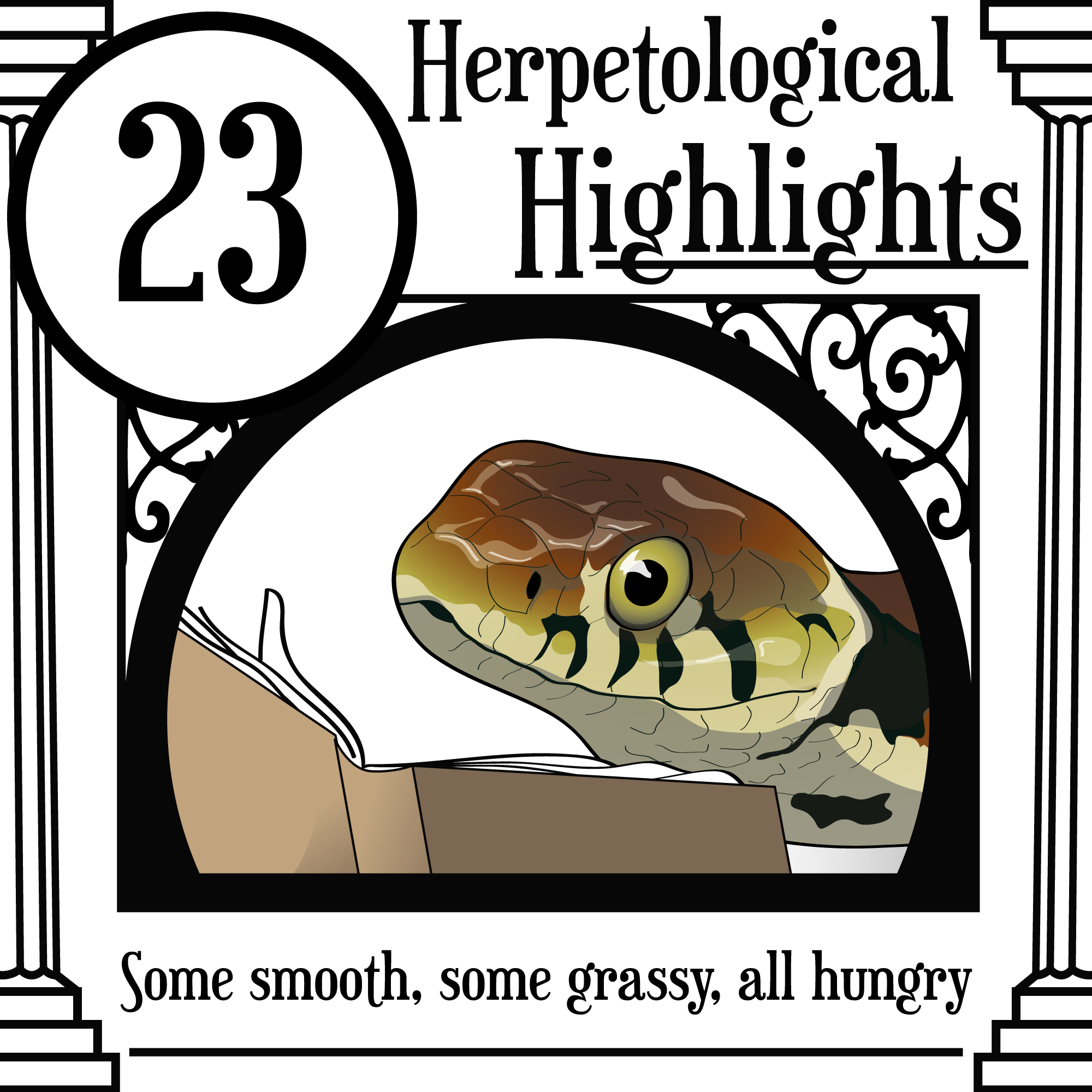 We kick off this episode with the announcement of our move onto Patreon: https://www.patreon.com/herphighlights . Research chat this time is all British snakes. We may not have the most extensive array of snake-life in the Britain, but that doesn't mean that there can't be some exciting herpetofaunal research. This fortnight we are looking at a couple of papers on smooth and grass snakes. And a slight change to the Species of the Bi-week. FULL REFERENCE LIST AVAILABLE AT: herphighlights.podbean.com
Main Paper References:
Reading, C, and G Jofré. 2013. "Diet Composition Changes Correlated with Body Size in the Smooth Snake, Coronella Austriaca, Inhabiting Lowland Heath in Southern England." Amphibia-Reptilia 34 (4): 463–70.
Sewell, D, JMR Baker, and RA Griffiths. 2015. "Population Dynamics of Grass Snakes (Natrix natrix) at a Site Restored for Amphibian Reintroduction." Herpetological Journal 25 (July): 155–61.
Species of the Bi-Week:
Kindler, C, M Chèvre, S Ursenbacher, W Böhme, A Hille, D Jablonski, M Vamberger, and U Fritz. 2017. "Hybridization Patterns in Two Contact Zones of Grass Snakes Reveal a New Central European Snake Species." Scientific Reports 7 (1): 1–12.
Other Mentioned Papers/Studies:
Buckley, J, and J Foster. 2005. "Reintroduction Strategy for the Pool Frog Rana Lessonae in England." English Nature Research Report.
Glaudas, X, and GJ Alexander, 2017. "Food supplementation affects the foraging ecology of a low-energy, ambush-foraging snake." Behavioral ecology and sociobiology, 71(1), 5.
Glaudas, X, TC Kearney, and GJ Alexander. 2017. "Museum specimens bias measures of snake diet: a case study using the ambush-foraging puff adder (Bitis arietans)." Herpetologica, 73(2), 121-128.
Madsen, T. 1984. "Movements, Home Range Size and Habitat Use of Radio-Tracked Grass Snakes (Natrix Natrix) in Southern Sweden." Copeia 1984 (3): 707–13.
Reading, CJ, and GM Jofré. 2009. "Habitat Selection and Range Size of Grass Snakes Natrix natrix in an Agricultural Landscape in Southern England." Amphibia-Reptilia 30 (3): 379–88.
Wasko, DK, and M Sasa. 2012. "Food Resources Influence Spatial Ecology, Habitat Selection, and Foraging Behavior in an Ambush-Hunting Snake (Viperidae: Bothrops Asper): An Experimental Study." Zoology 115 (3): 179–87.
Wisler, C, U Hofer, and R Arlettaz. 2008. "Snakes and Monocultures: Habitat Selection and Movements of Female Grass Snakes (Natrix natrix l.) in an Agricultural Landscape." Journal of Herpetology 42 (2): 337–46.
Thomson, SA, RL Pyle, ST Ahyong, M Alonso-Zarazaga, J Ammirati, JF Araya, JS Ascher, et al. 2018. "Taxonomy Based on Science Is Necessary for Global Conservation." PLOS Biology 16 (3): e2005075.
Other Links/Mentions:
The grass snake and the frog video - https://www.youtube.com/watch?v=4Sa_G9Hhf3o
Music:
Intro/outro – Treehouse by Ed Nelson
Other Music – The Passion HiFi, www.thepassionhifi.com