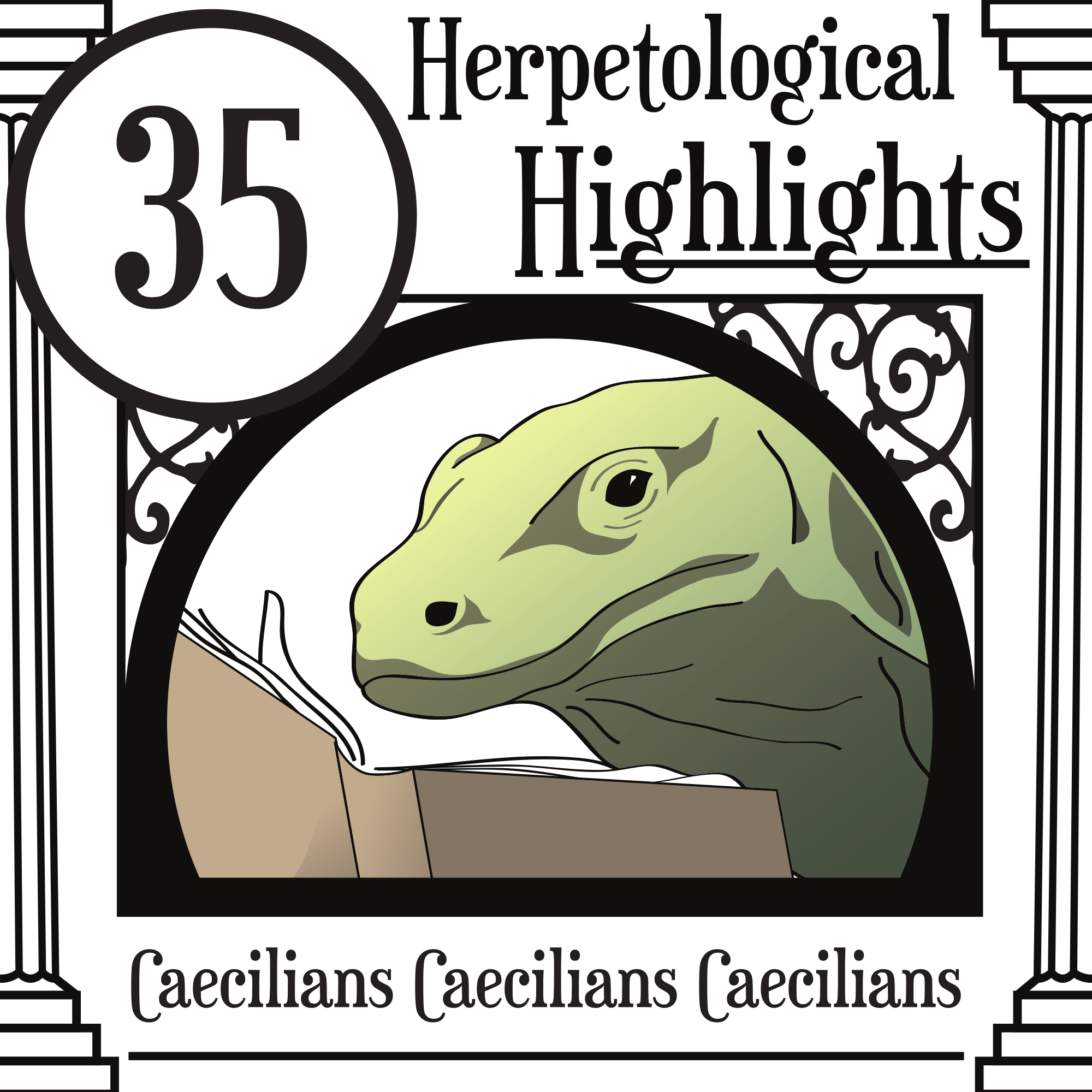 This fortnight we are delving into the peculiar world of caecilians. Fossorial amphibians that seldom show their faces on the surface. We chat about caecilians' strange adaptations and how a ten-year study has shed some light on their reproductive habits. The Species of the Bi-week is a suitably elongated and slimy critter. FULL REFERENCE LIST AVAILABLE AT: herphighlights.podbean.com
Main Paper References:
Jared, C., Mailho-Fontana, P. L., Jared, S. G. S., Kupfer, A., Delabie, J. H. C., Wilkinson, M., & Antoniazzi, M. M. (2018). Life history and reproduction of the neotropical caecilian Siphonops annulatus (Amphibia, Gymnophiona, Siphonopidae), with special emphasis on parental care. Acta Zoologica, (March), 1–11. https://doi.org/10.1111/azo.12254
Jared, C., Mailho-Fontana, P. L., Marques-Porto, R., Sciani, J. M., Pimenta, D. C., Brodie, E. D., & Antoniazzi, M. M. (2018). Skin gland concentrations adapted to different evolutionary pressures in the head and posterior regions of the caecilian Siphonops annulatus. Scientific Reports, 8(1), 1–7. https://doi.org/10.1038/s41598-018-22005-5
Species of the Bi-Week:
Maddock, S. T., Wilkinson, M., & Gower, D. J. (2018). A new species of small, long-snouted Hypogeophis Peters, 1880 (Amphibia: Gymnophiona: Indotyphlidae) from the highest elevations of the Seychelles island of Mahé. Zootaxa, 4450(3), 359–375. https://doi.org/10.11646/zootaxa.4450.3.3
Other Mentioned Papers/Studies:
Jared, C. et al. (2005). Head co-ossification, phragmosis and defense in the casque-headed tree frog Corythomantis greeningi. Journal of Zoology, 265.
Sawaya, P. (1940) Sobre o veneno das glândulas cutâneas, a secreção e o coração de Siphonops annulatus. Bot. Fac. Fill. Ci. Let. Univ. São Paulo. Ser. Zool. 4, 207–270
Wilkinson, M., Kupfer, A., Marques-Porto, R., Jeffkins, H., Antoniazzi, M. M., & Jared, C. (2008). One hundred million years of skin feeding? Extended parental care in a Neotropical caecilian (Amphibia: Gymnophiona). Biology Letters, 4(4), 358–361. https://doi.org/10.1098/rsbl.2008.0217
Wilson, N. J., Stokes, A. N., Hopkins, G. R., Brodie, Jr., E. D., & Williams, C. R. (2014). Functional and physiological resistance of crayfish to amphibian toxins: tetrodotoxin resistance in the white river crayfish (Procambarus acutus). Canadian Journal of Zoology, 92(11), 939–945. https://doi.org/10.1139/cjz-2014-0128
Other Links/Mentions:
BBC Life in Cold Blood - https://www.youtube.com/watch?v=UCF4qmxdkkM
Video of caecilian babies eating the skin of their mother: https://www.youtube.com/watch?v=6K6szXrBHwM
Music:
Intro/outro – Treehouse by Ed Nelson
Other Music – The Passion HiFi, www.thepassionhifi.com