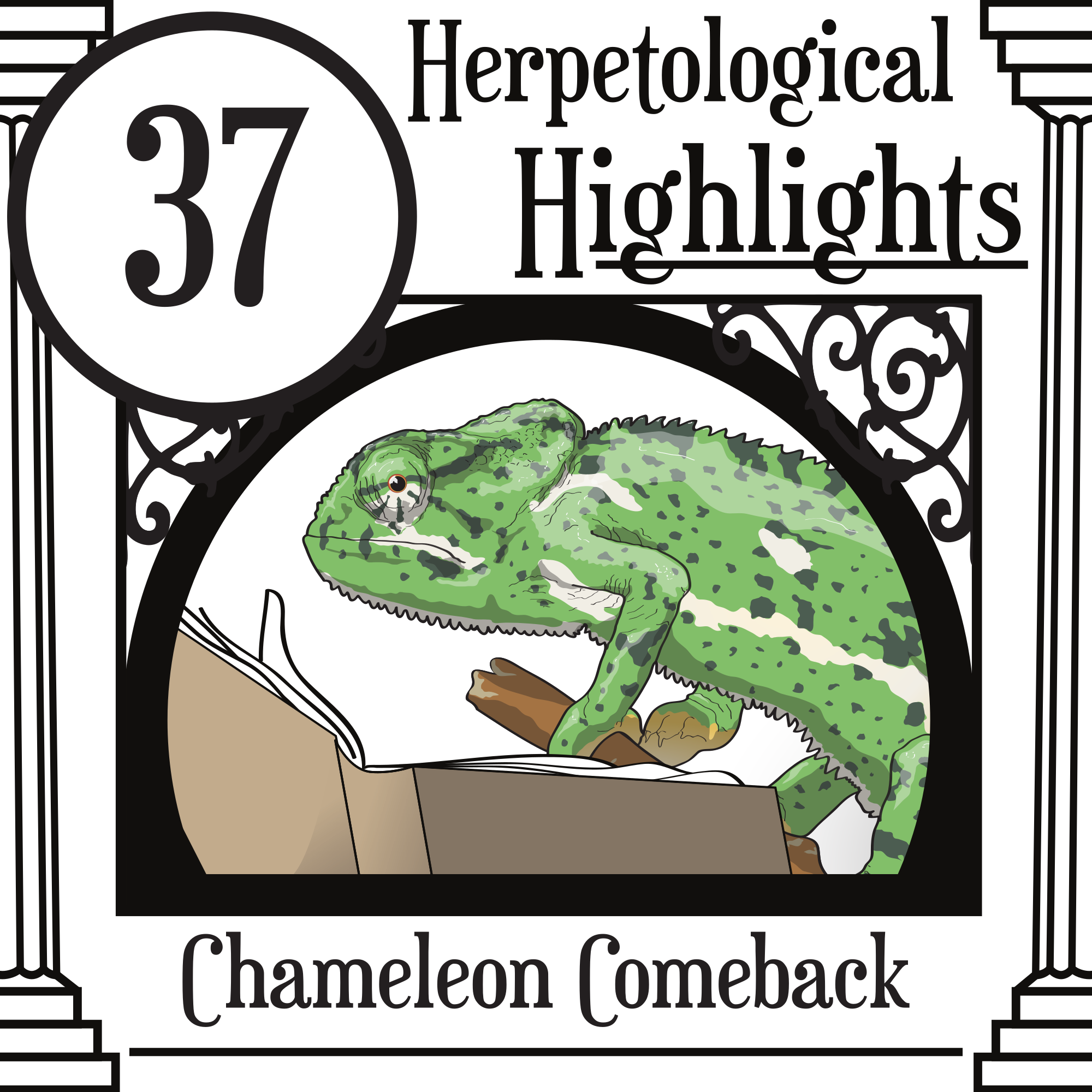 Chameleons -- perhaps one of the most instantly identifiable herps out there. But beyond their strange morphological adaptations what do we know about their lives? We check out a couple of papers looking at the lives of some East African species who until recently were missing some pretty basic natural history information. They are joined by a newly described species from the hills of Tanzania. FULL REFERENCE LIST AVAILABLE AT: herphighlights.podbean.com
Main Paper References:
Hughes, D. F., Blackburn, D. G., Wilber, L., & Behangana, M. (2018). New distribution records, observations on natural history, and notes on reproduction of the poorly known Sudanese Unicorn Chameleon (Chamaeleonidae: Trioceros conirostratus) from Uganda, Africa. Amphibian & Reptile Conservation, 12(2), 83–89.
Reaney, L. T., Yee, S., Losos, J. B., & Whiting, M. J. (2012). Ecology of the Flap-Necked Chameleon Chamaeleo dilepis In Southern Africa. Breviora, 532(September), 1–18. https://doi.org/10.3099/532.1
Species of the Bi-Week:
Menegon, M., Loader, S. P., Davenport, T. R. B., Howell, K. M., Tilbury, C. R., Machaga, S., & Tolley, K. A. (2015). A new species of Chameleon (Sauria: Chamaeleonidae: Kinyongia) highlights the biological affinities between the Southern Highlands and Eastern Arc Mountains of Tanzania. Acta Herpetologica, 10(2), 111–120. https://doi.org/10.13128/Acta_Herpetol-17171
Other Mentioned Papers/Studies:
Hebrard, J. J., & Madsen, T. (1984). Dry season intersexual habitat partitioning by flap-necked chameleons (Chamaeleo dilepis) in Kenya. Biotropica, 69-72.
Main, D. C., van Vuuren, B. J., & Tolley, K. A. (2018). Cryptic diversity in the common flap-necked chameleon Chamaeleo dilepis in South Africa. African Zoology, 53(1), 11-16.
Meiri, S. (2018). Traits of lizards of the world: Variation around a successful evolutionary design. Global Ecology and Biogeography, (June 2017), 1–5. https://doi.org/10.1111/geb.12773
Miller, A. K., Maritz, B., McKay, S., Glaudas, X., & Alexander, G. J. (2015). An ambusher's arsenal: chemical crypsis in the puff adder (Bitis arietans). Proc. R. Soc. B, 282(1821), 20152182.
Preest, M. R., Ward, M. J., Poon, T., & Hermanson, J. W. (2016). Chemical Prey Luring in Jackson's Chameleons. Physiological and Biochemical Zoology, 89(2), 110–117. https://doi.org/10.1086/685455
Stipala, J. 2014. Mountain Dragons: In Search of Chameleons in the Highlands of Kenya. Jan Stipala, Singapore.

Tilbury CR, Tolley KA, Branch, WR (2006). A review of the genus Bradypodion (Sauria: Chamaeleonidae), with the descriptions of two new genera. Zootaxa 1363: 23-38. (Kinyongia, new genus).
Other Links/Mentions:
Video of flap necked chameleon vs boomslang: https://www.youtube.com/watch?v=cnhX_ho9DsE
Another, where chameleon loses: https://www.youtube.com/watch?v=23TxyVZiICo
Music:
Intro/outro – Treehouse by Ed Nelson
Other Music – The Passion HiFi, www.thepassionhifi.com