Episodes
Tuesday Nov 19, 2019
Tuesday Nov 19, 2019
In a slightly shambolic episode we mix up the format, this Bi-week we take a look at some lost species and their recent rediscoveries. FULL REFERENCE LIST AVAILABLE AT: herphighlights.podbean.com
References:
1) Jackson's climbing salamander (Bolitoglossa jacksoni)
https://www.nationalgeographic.com/news/2017/10/salamanders-extinct-species-rediscovery-guatemala/
https://www.globalwildlife.org/jacksons-climbing-salamander/
https://amphibiaweb.org/cgi/amphib_query?where-genus=Bolitoglossa&where-species=jacksoni
2) Pygmy blue tongue skink (Tiliqua adelaidensis)
Milne, T., Bull, C. M., & Hutchinson, M. N. (2003). Use of burrows by the endangered pygmy blue-tongue lizard, Tiliqua adelaidensis (Scincidae). Wildlife Research, 30(5), 523-528.
Milne T, Bull CM, Hutchinson M (2003). "Fitness of the endangered pygmy blue tongue lizard Tiliqua adelaidensis in artificial burrows". Journal of Herpetology. 37 (4): 762–765.
Funny skink video: https://www.abc.net.au/news/2016-02-24/monarto-zoos-pygmy-blue-tongue-lizard-breeding-success/7195136?section=sa 
3) Palawan Forest Turtle (Siebenrockiella leytensis)
https://www.turtleconservancy.org/programs/palawan
https://www.pna.gov.ph/articles/1042202
4) Bornean rainbow toad (Ansonia latidisca)
https://www.researchgate.net/profile/Leticia_Ochoa-Ochoa/publication/216019689_Planning_amphibian_conservation_in_Mexico/links/0f317535a27be25d88000000/Planning-amphibian-conservation-in-Mexico.pdf#page=6
5) Albany Adder (Bitis albanica)
https://www.nationalgeographic.com/news/2017/05/albany-adder-venomous-snake-extinct/
https://www.africansnakebiteinstitute.com/snake/albany-adder-2/
6) Inland taipan (Oxyuranus microlepidota)
https://web.archive.org/web/20090613092123/http://www.qm.qld.gov.au/features/snakes/taipan/rediscovery.asp 
7) Armoured Mistfrog, Armoured Frog (Litoria lorica)
https://amphibiaweb.org/species/1269
8) Arakan Forest Turtle (Heosemys depressa)
Platt, S. G., Myo, K. M., Ko, W. K., Maung, A., & Rainwater, T. R. (2010). Field observations and conservation of Heosemys depressa in the Rakhine Yoma Elephant Range of western Myanmar. Chelonian Conservation and Biology, 9(1), 114-119.
9) Allan's lerista, Greater Robust Fine-lined Slider, Retro slider (Lerista allanae)
https://theconversation.com/australian-endangered-species-retro-slider-12076
http://www.environment.gov.au/cgi-bin/sprat/public/publicspecies.pl?taxon_id=1378
10) Cropan's boa (Corallus cropanii) 
https://www.nationalgeographic.com/news/2017/02/snakes-boa-rediscovered-brazil/ 
11) Andayapa Andes Toad (Rhaebo olallai)
https://www.globalwildlife.org/blog/tiny-lost-and-found-toad-becomes-harbinger-of-hope/
Other lost species: https://www.globalwildlife.org/search-for-lost-species/
Music:
Intro/outro – Treehouse by Ed Nelson
Other Music – The Passion HiFi, www.thepassionhifi.com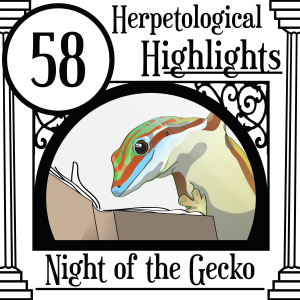 Tuesday Nov 05, 2019
Tuesday Nov 05, 2019
Geckos! In Hawai'i? We know what you're thinking - not by natural biogeographic processes! And you're right, they are there because they are invasive species brought by humans. In this Patreon-chosen episode, we explore some of the more unusual species the island has to offer. Our Species of the Bi-Week is a splendid lizard with an even more splendid name.
Check out the Ross McGibbon reptile calendar: http://rmrphotography.com.au/2020-calendar-1/
FULL REFERENCE LIST AVAILABLE AT: herphighlights.podbean.com
Main Paper References:
Bucol, A., & Alcala, A. (2013). Tokay gecko, Gekko gecko (Sauria: Gekkonidae) predation on juvenile house rats. Herpetol. Notes, 6, 307-308.
Seifan, T., Federman, A., Mautz, W. J., Smith, K. J., & Werner, Y. L. (2010). Nocturnal foraging in a diurnal tropical lizard (Squamata: Gekkonidae: Phelsuma laticauda) on Hawaii. Journal of Tropical Ecology, 26(2), 243-246.
Goldberg, S. R., & Kraus, F. (2011). Notes on Reproduction of the Gold Dust Day Gecko, Phelsuma laticauda (Gekkonidae) from Hawaii. Current herpetology, 30(1), 79-81.
Species of the Bi-Week:
Ratsoavina, F. M., Raselimanana, A. P., Scherz, M. D., Rakotoarison, A., Razafindraibe, J. H., Glaw, F., & Vences, M. (2019). Finaritra! A splendid new leaf-tailed gecko (Uroplatus) species from Marojejy National Park in north-eastern Madagascar. Zootaxa, 4545(4), 563-577.
Other Mentioned Papers/Studies:
Heiss, R. S., Clark, A.B., & McGowan, K.J. (2009) "Growth and Nutritional State of American Crow Nestlings Vary between Urban and Rural Habitats." Ecological Applications 19(4): 829–39. https://doi.org/10.1890/08-0140.1.
Wood, K. R., Burney, D. A., Allison, A., & Fisher, R. (2013). Emoia impar (Squamata, Scincidae): not extinct in the Hawaiian Islands. Oryx, 47(3), 328-328.
Other Links/Mentions:
Satanic leaf tailed gecko leaf-tail movement pairing: https://youtu.be/JGqYqZnqPRA
Phelsuma battle: https://www.youtube.com/watch?v=sZb3xi3OZKs
Our patreon: https://www.patreon.com/herphighlights
Music:
Intro/outro – Treehouse by Ed Nelson
Other Music – The Passion HiFi, www.thepassionhifi.com