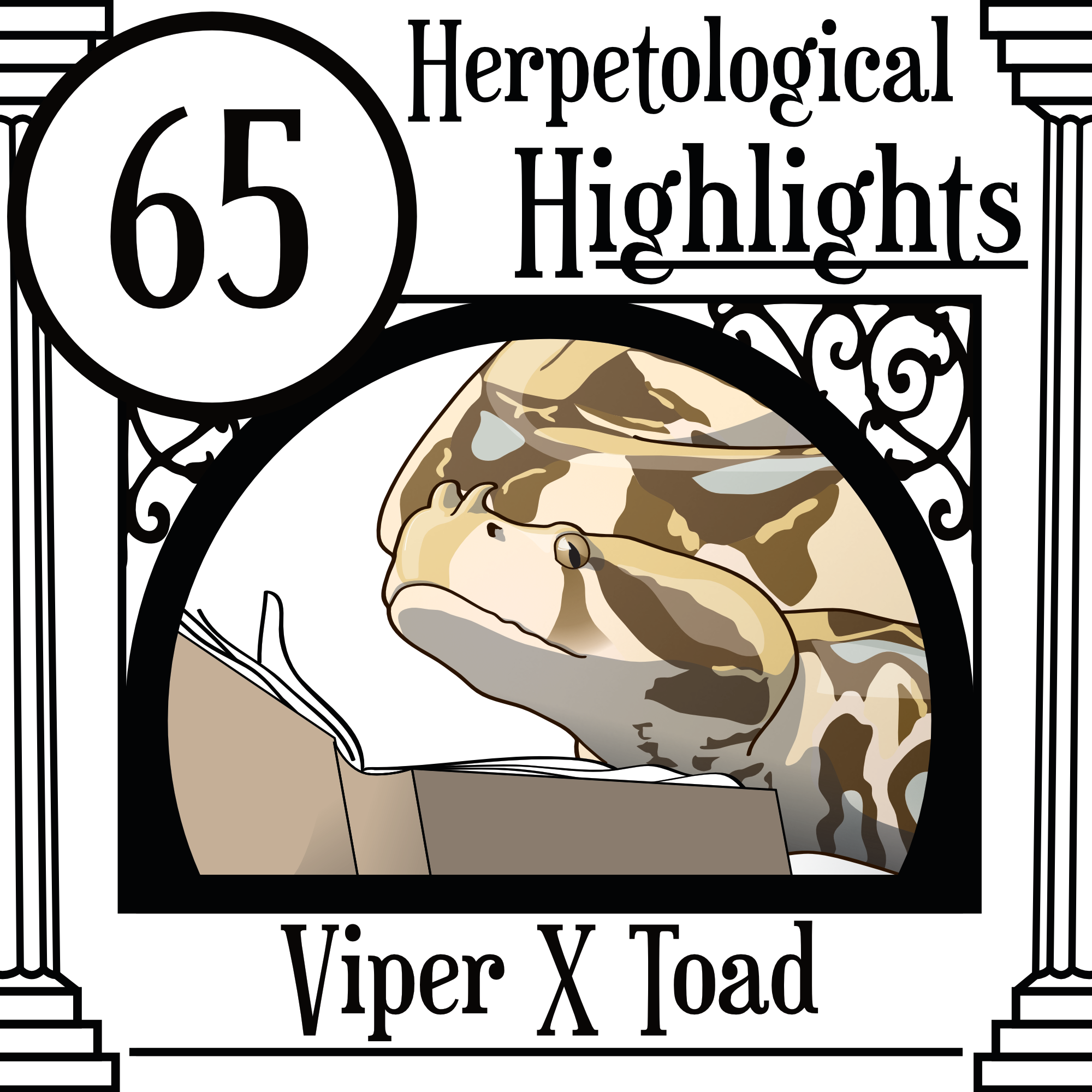 This episode we take a look at the Gaboon Viper… or is that a toad? Looking at a couple of papers, we check out the characteristics of Gaboon Viper skin, and how a smart toad may be harnessing the looks of a viper to stay safe. Species of the Bi-week returns and continues our African toad journey. FULL REFERENCE LIST AVAILABLE AT: herphighlights.podbean.com
Main Paper References:
Spinner M, Gorb SN, Balmert A, Bleckmann H, Westhoff G. (2014). Non-Contaminating Camouflage: Multifunctional Skin Microornamentation in the West African Gaboon Viper (Bitis rhinoceros). PLoS ONE 9:e91087. DOI: 10.1371/journal.pone.0091087.
Vaughan ER, Teshera MS, Kusamba C, Edmonston TR, Greenbaum E. (2019). A remarkable example of suspected Batesian mimicry of Gaboon Vipers (Reptilia: Viperidae: Bitis gabonica) by Congolese Giant Toads (Amphibia: Bufonidae: Sclerophrys channingi). Journal of Natural History 53:1853–1871. DOI: 10.1080/00222933.2019.1669730.
Species of the Bi-Week:
Ceríaco LMP, Marques MP, Bandeira S, Agarwal I, Stanley EL, Bauer AM, Heinicke MP, Blackburn DC. (2018). A new earless species of Poyntonophrynus (Anura, Bufonidae) from the Serra da Neve Inselberg, Namibe Province, Angola. ZooKeys 780:109–136. DOI: 10.3897/zookeys.780.25859.
Other Mentioned Papers/Studies:
Spinner M, Kovalev A, Gorb SN, Westhoff G (2013) Snake velvet black: hierarchical micro- and nanostructure enhances dark colouration in Bitis rhinoceros. Scientific Reports 3: 1846. doi: 10.1038/srep01846
Penner J, Fruteau C, Range F, Rödel M-O. (2008). Finding a needle in a haystack: new methods of locating and working with rhinoceros vipers (Bitis rhinoceros). Herpetological Review 39:310–314.
Wittenberg, R.D., Jadin, R.C., Fenwick, A.M. et al. (2015). Recovering the evolutionary history of Africa's most diverse viper genus: morphological and molecular phylogeny of Bitis (Reptilia: Squamata: Viperidae). Organisms Diversity and Evolution 15, 115–125 https://doi.org/10.1007/s13127-014-0185-3
Music:
Intro/outro – Treehouse by Ed Nelson
Other Music – The Passion HiFi, www.thepassionhifi.com