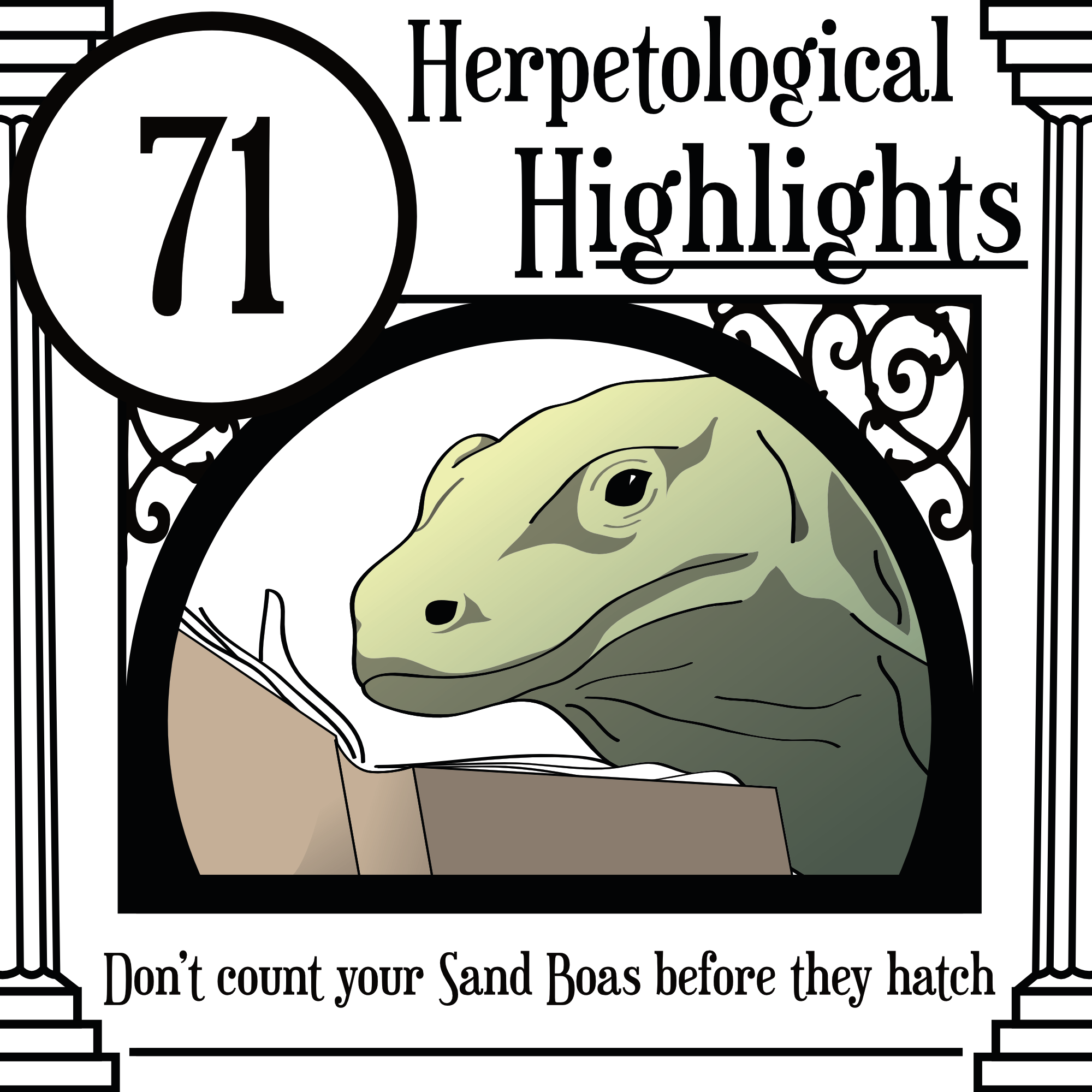 Like many a fossorial snake, Sand Boas hold many surprises; this episode we explore some of those. First, an investigation into Dollo's "Law", then a couple of natural history notes providing some insight into Sand Boa diets. FULL REFERENCE LIST AVAILABLE AT: herphighlights.podbean.com
Main Paper References:
Lobo, J. V., & Streepada, K. S. (2015). First report on Whitaker's boa Eryx whitakeri feeding on common vine snake. Reptile Rap, 17.
Londei, T. (2015). Arabian sand boa Eryx jayakari (Squamata: Boidae) preying on Arabian toad-headed agama Phrynocephalus arabicus (Squamata: Agamidae): A nocturnal-to-diurnal species interaction. Herpetology Notes, 8, 155–15.
Lynch, V. J., & Wagner, G. P. (2010). Did Egg-laying Boas Break Dollo's Law? Phylogenetic Evidence For Reversal To Oviparity In Sand Boas (Eryx: Boidae). Evolution, 64(1), 207–216. doi: 10.1111/j.1558-5646.2009.00790.x
Species of the Bi-Week:
Nguyen, H. N., Tran, B. V., Nguyen, L. H., Neang, T., Yushchenko, P. V., & Poyarkov, N. A. (2020). A new species of Oligodon Fitzinger, 1826 from the Langbian Plateau, southern Vietnam, with additional information on Oligodon annamensis Leviton, 1953 (Squamata: Colubridae). PeerJ, 8, e8332. doi: 10.7717/peerj.8332
Other Mentioned Papers/Studies:
Laird, M. K., Thompson, M. B., & Whittington, C. M. (2019). Facultative oviparity in a viviparous skink (
Saiphos equalis
).
Biology Letters
,
15
(4), 20180827. doi:
10.1098/rsbl.2018.0827
Recknagel, H., Kamenos, N. A., & Elmer, K. R. (2018). Common lizards break Dollo's law of irreversibility: genome-wide phylogenomics support a single origin of viviparity and re-evolution of oviparity. Molecular Phylogenetics and Evolution, 127, 579-588.
Music:
Intro/outro – Treehouse by Ed Nelson
Other Music – The Passion HiFi, www.thepassionhifi.com