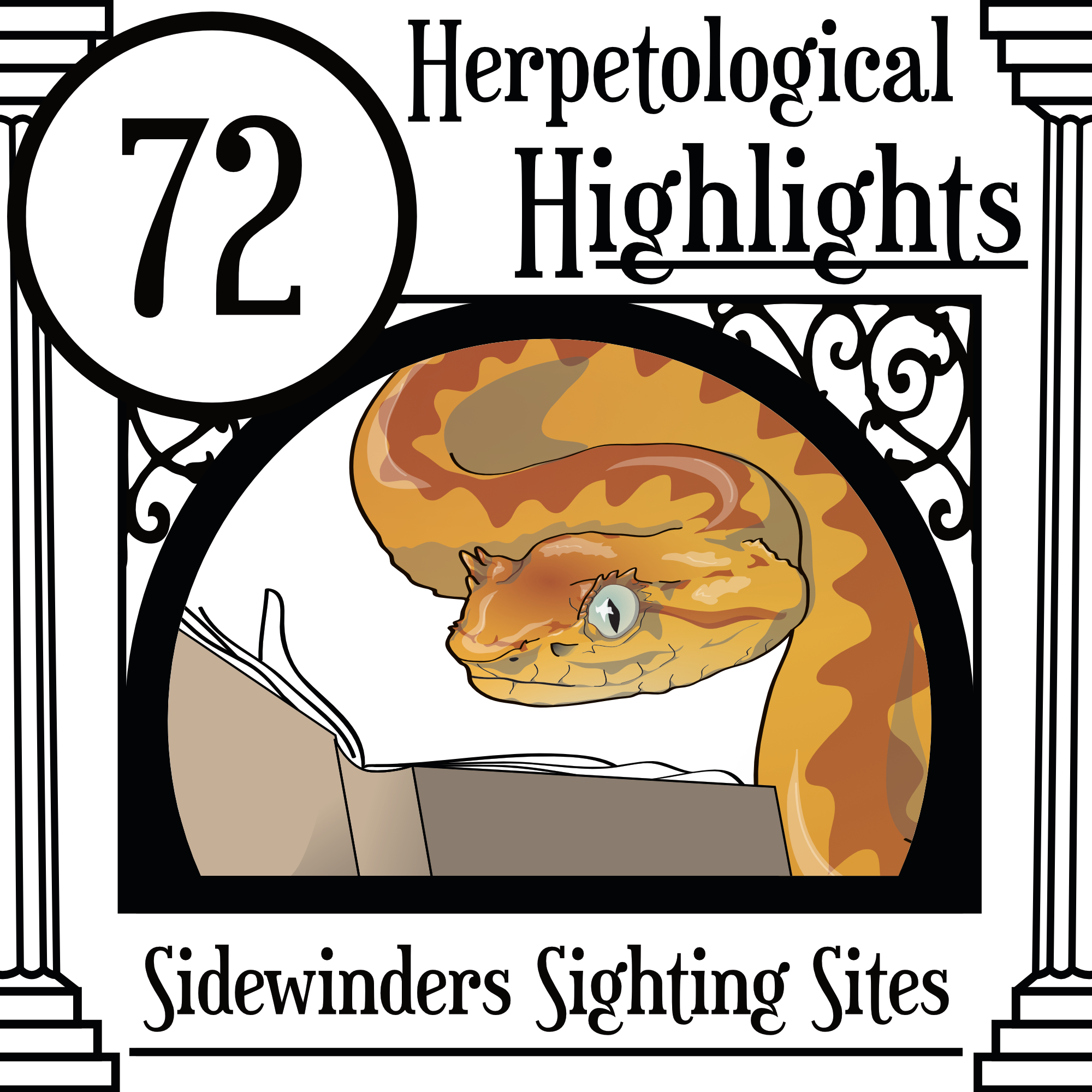 Sidewinders, how do they go about life? From their hunting techniques, to how they view the landscape around them, this episode delves into the lives of these iconic vipers. Our Species of the Bi-Week is of course a recently described viper.
FULL REFERENCE LIST AVAILABLE AT: herphighlights.podbean.com
Main Paper References:
Clark RW, Dorr SW, Whitford MD, Freymiller GA, Putman BJ. (2016) Activity cycles and foraging behaviors of free-ranging sidewinder rattlesnakes (Crotalus cerastes): The ontogeny of hunting in a precocial vertebrate. Zoology 119, 196–206. (doi:10.1016/j.zool.2016.02.005)
Schraft HA, Bakken GS, Clark RW. (2019) Infrared-sensing snakes select ambush orientation based on thermal backgrounds. Scientific Reports. 9, 1–6. (doi:10.1038/s41598-019-40466-0)
Species of the Bi-Week: 
Sumontha M et al. 2020 Protobothrops kelomohy sp. nov. (Squamata : Viperidae), the Second Known Species of Lance-Headed Pit Viper from Thailand. Tropical Natural History 20, 43–59.
Other Mentioned Papers/Studies:
Link to Tom's marking snakes with VIE study: https://bit.ly/2ZNzUGA 
Other Links/Mentions:
Sidewinder videos: Video 1 http://youtu.be/AmGn3eESJkg Video 2 http://youtu.be/pPF0Wupl3lE Video 3 http://youtu.be/N2Nf8uMOZ2c Video 4 http://youtu.be/Jl8Ma7GMLks Video 5 http://youtu.be/epwYN9qp2TI Video 6 http://youtu.be/hREihZCiCd8 Video 7 http://youtu.be/BLLoYSz7DiI 
Eyewitness doc on reptiles: https://www.youtube.com/watch?v=PuyQsHWpBDQ
Music:
Intro/outro – Treehouse by Ed Nelson
Species Bi-week theme- Mike Mooney
Other Music – The Passion HiFi, www.thepassionhifi.com