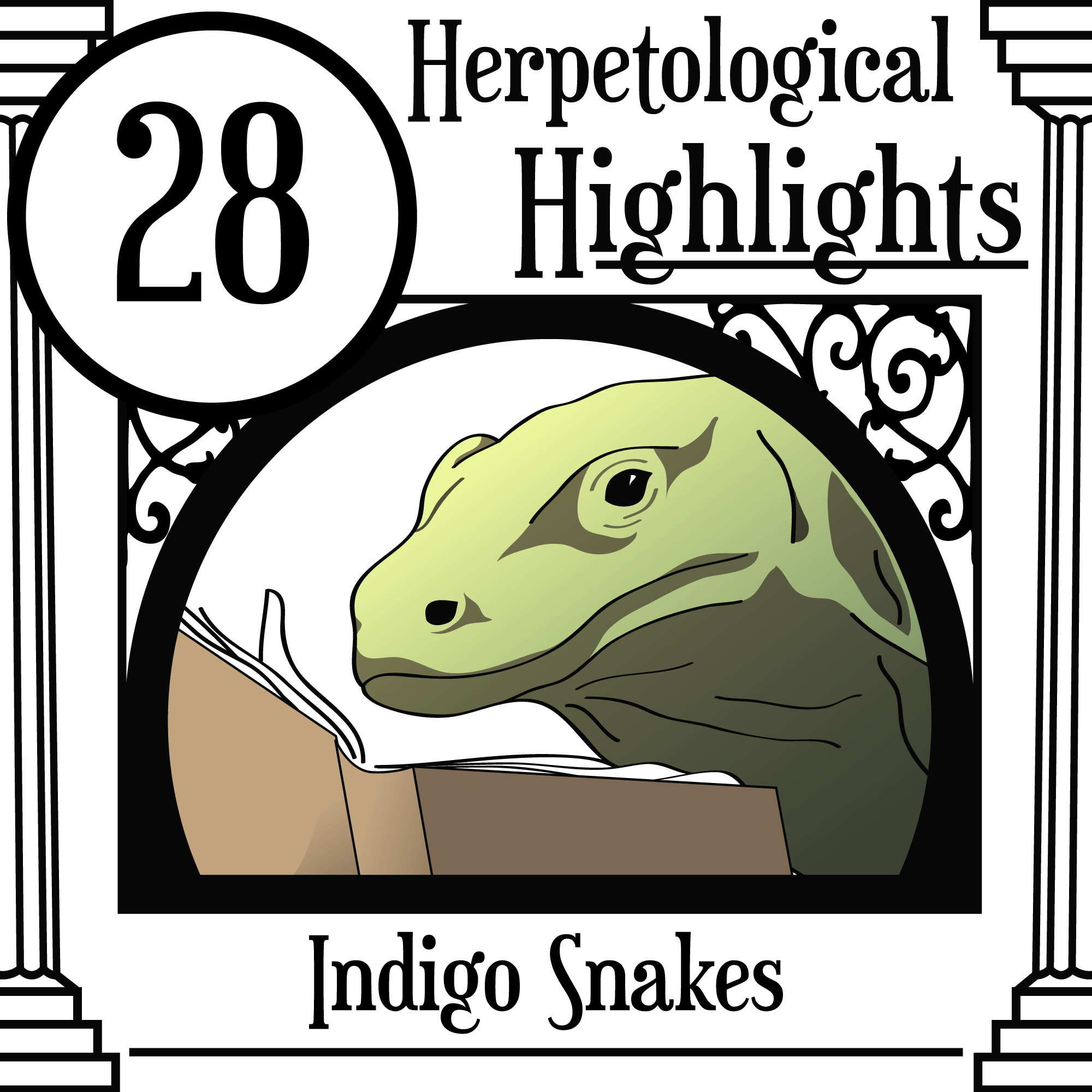 Some snakes are equal parts impressive and mysterious. The indigo snakes are one such group. In this episode we talk about Drymarchon conservation controversies, and what they like to have for their lunch. Finally, we do an unintended Species of the Bi-week mash up. FULL REFERENCE LIST AVAILABLE AT: herphighlights.podbean.com
Main Paper References:
Folta, B, J Bauder, S Spear, D Stevenson, M Hoffman, J Oaks, C Jenkins, D Steen, and C Guyer. 2018. "Phylogenetic, Population Genetic, and Morphological Analyses Reveal Evidence for One Species of Eastern Indigo Snake (Drymarchon Couperi)." BioRxiv: 1–56. doi:10.1101/318766.
Goetz, SM, JC Godwin, M Hoffman, F Antonio, and DA Steen. 2018. "Eastern Indigo Snakes Exhibit an Innate Response to Pit Viper Scent and an Ontogenetic Shift in Their Response to Mouse Scent." Herpetologica 74 (2): 152–58.
Species' of the Bi-Week:
Kraus, F. (2013). A New Species of Hylophorbus (Anura: Microhylidae) from Papua New Guinea. Current Herpetology, 32(2), 102-111.
Kraus, F. 2018. "A New Species of Choerophryne (Anura: Microhylidae) from Papua New Guinea." Proceedings of the Biological Society of Washington 32 (2): 102–11.
Other Mentioned Papers/Studies:
de Fraga, R, AP Lima, WE Magnusson, M Ferrão, and AJ Stow. 2017. "Contrasting Patterns of Gene Flow for Amazonian Snakes That Actively Forage and Those That Wait in Ambush." Journal of Heredity 108 (5): 524–34.
Hyslop, NL, JM Meyers, RJ Cooper, and DJ Stevenson. 2014. "Effects of Body Size and Sex of Drymarchon Couperi (Eastern Indigo Snake) on Habitat Use, Movements, and Home Range Size in Georgia." Journal of Wildlife Management 78 (1): 101–11.
Krysko, KL, MC Granatosky, LP Nuñez, and DJ Smith. 2016. "A Cryptic New Species of Indigo Snake (Genus Drymarchon) from the Florida Platform of the United States." Zootaxa 4138 (3): 549.
Krysko, KL, LP Nuñez, CA Lippi, DJ Smith, and MC Granatosky. 2016. "Pliocene–Pleistocene Lineage Diversifications in the Eastern Indigo Snake (Drymarchon Couperi) in the Southeastern United States." Molecular Phylogenetics and Evolution 98 (May): 111–22.
Strickland, JL, CL Parkinson, JK McCoy, and LK Ammerman. 2014. "Phylogeography of Agkistrodon Piscivorus with Emphasis on the Western Limit of Its Range." Copeia 2014 (4): 639–49.
Wüster, W, JL Yrausquin, and A Mijares-Urrutia. 2001. "A New Species of Indigo Snake from North-Western Venezuela (Serpentes: Colubridae: Drymarchon)." Herpetological Journal 11 (4): 157–65.
Other Links/Mentions:
T shirts etc: https://www.redbubble.com/people/HerpHighlights?asc=u
https://www.patreon.com/herphighlights   
Music:
Intro/outro – Treehouse by Ed Nelson
Other Music – The Passion HiFi, www.thepassionhifi.com